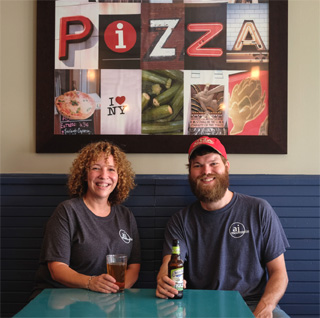 AJ stands for Allison and Josh. We purchased Moonspin in March of 2017 with an idea to create a happy, welcoming, service-oriented restaurant, but with very little idea what we had signed up for. Thankfully, the original owner, Lee, was a master pizza maker. She began Moonspin with a 275 year-old sour dough starter, years of experience, and a dedication to excellence. We adhere to her demanding standards: everything in our kitchen is fresh and locally grown if possible, we use the same brick ovens, and make the same truly gourmet pizza.
Moonspin's success is because of Lee's magnificent product and our remarkable support system. Our families, our friends, and our staff are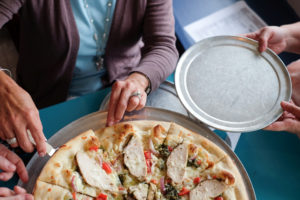 incredible. Our families have been there when we needed help or guidance, and our friends have donated hundreds of hours of labor (so much painting!). We cannot be thankful enough for their backing, or for our crew. The staff members are amazing. They are really funny, smart, and dedicated to helping us achieve our goals. Other restaurateurs have helped us, the city of Thomasville has helped us, customers have given us valuable advice – so many people have helped make aj moonspin what it is today.
We want everyone to feel welcomed and appreciated when they walk through the doors. We want you to have an excellent meal and a good time. There are lots of smiles, hugs, and handshakes going around the restaurant, and that is exactly what we wanted.  Thank you for making our restaurant feel like a home.